Ansio Tower Fan Review - A Great Mid Range Tower Fan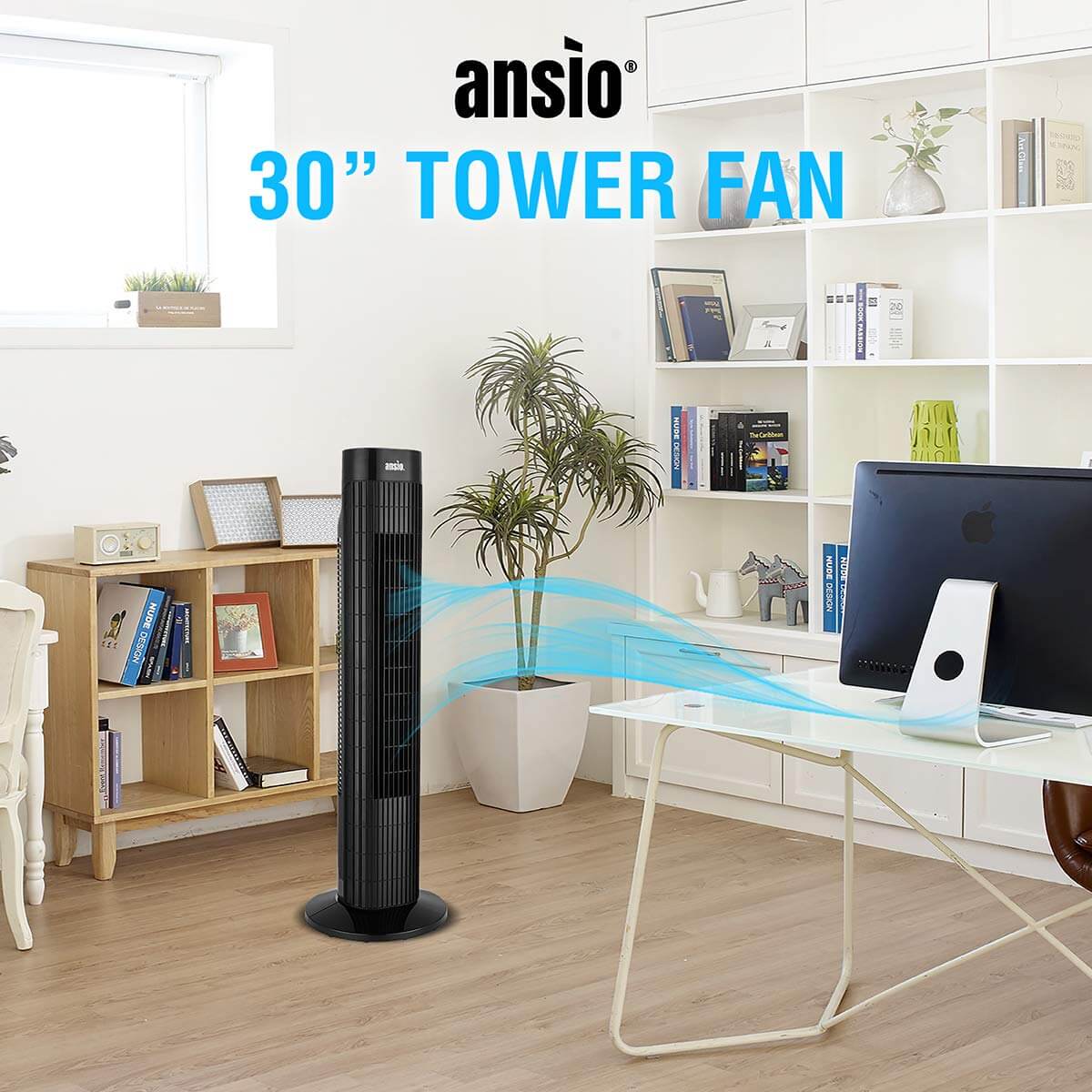 If you have found yourself on the lookout for a tower fan then you are not alone, millions of people are doing the same right now in this unbearable heat. If you have already started your search then one thing will be clear and that is that there are hundreds of choices on the market right now.
To help you cool your home down and find the perfect tower fan for your needs, we have tested and reviewed as many models as we possibly can so that we can give you a better idea of what you can expect from each one.
The model that we are going to be talking about in today's review is the Ansio Tower Fan. For a mid range model, we have to say that we were really pleased with this one. Read on below.
Features: 45w - 30" - 3 Speed Settings - 3 Wind Modes - 7.5 Hour Timer - Remote Control - Bladeless - 24 x 24 x 76.5 cm - 3.1kg
Pros:
Nice modern design that has been built from extra tough materials so it is extra durable.
Really nice and bright digital display.
The 7.5 hour timer is perfect for cooling overnight.
It is relatively quiet so it is perfect for overnight use.
Cons:
The degree of oscillation is only 60 degrees so it is quite limited.
The remote beeps every time you press a button which can be a little annoying.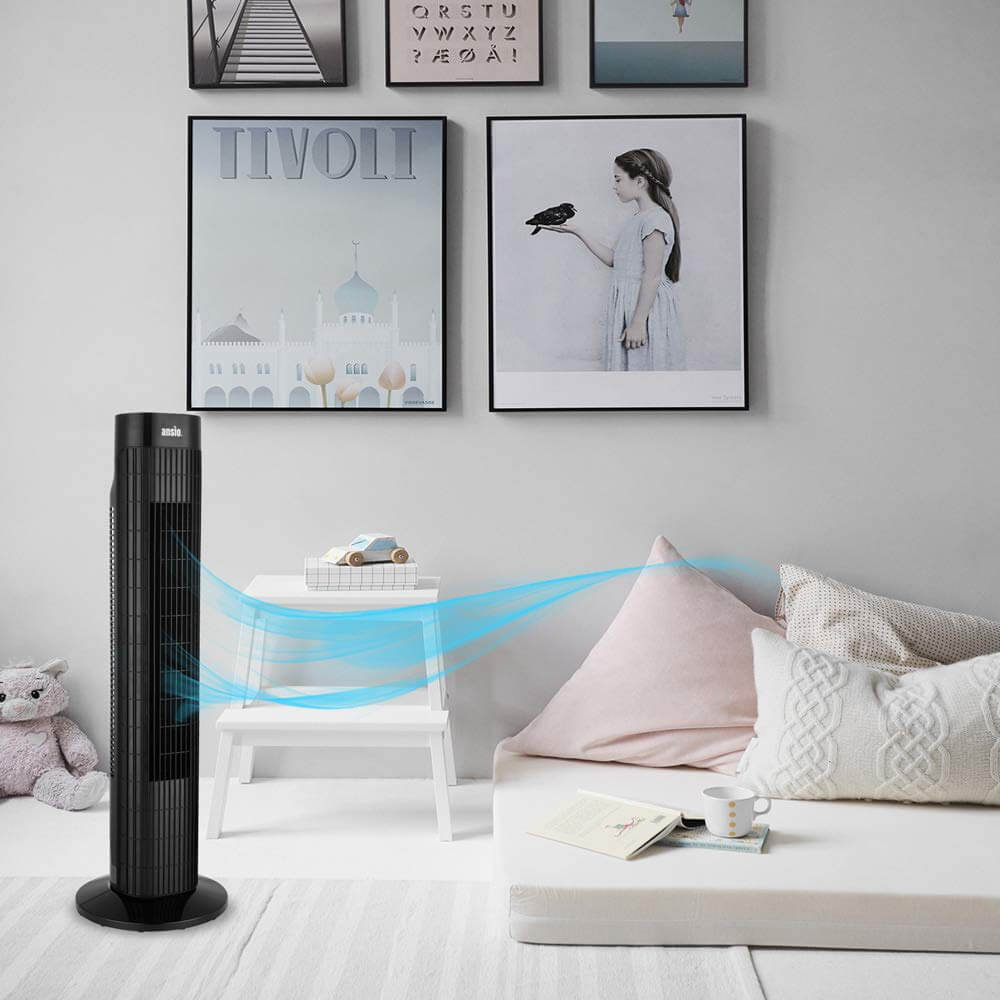 The Ansio Tower Fan Review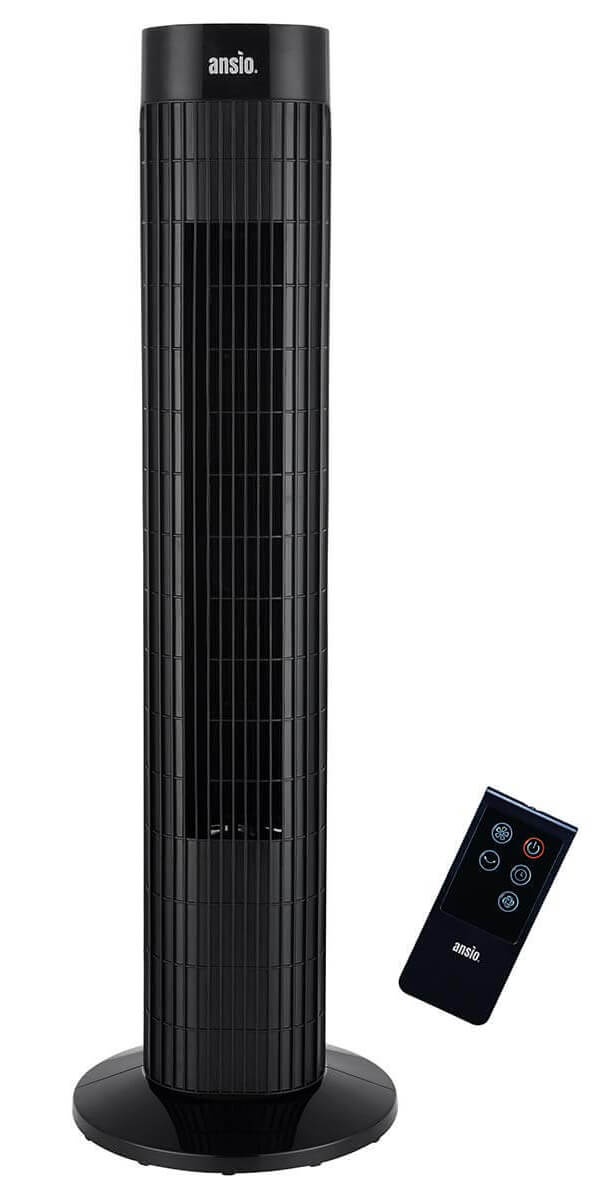 Taking the Ansio Tower Fan out of the box, our first task was to get everything assembled. Fortunately, this was a really easy process. All we had to do was to attach the base to the tower and plug it in and we were ready to test it out properly.
The first thing that we noticed with the Ansio Tower Fan is that it is built from incredibly tough materials. This extra level of durability is a huge selling point. Another design feature that we really liked was the bright and clear digital display which looks great.
This tower fan has a built in 7.5 hour timer. We used this over a couple of nights whilst we were asleep and definitely noticed a significant difference in the temperature by the morning. We also found that the noise levels when used overnight are actually really quiet; we didn't get disturbed at all.
As with most fans, there are some downsides with the Ansio Tower Fan. First of all, we felt that the degree of oscillation was quite limited. At only 60 degrees, we felt that it would be a lot better with more range.
As well as this, we noticed that every time you press a button on the remote control it beeps. This isn't really a problem during the day, but it could cause disturbances at night and it did get a little annoying.
Although there are these couple of negative aspects to keep in mind, for the most part we were really pleased with the Ansio Tower Fan and would certainly recommend it to anyone who is looking for a mid range tower fan for their home or workplace.
CONVENIENT, COOLING EFFECT: Ansio's Black Tower fan is a perfect blend of design, performance and quality. Made of durable ABS plastic, this tower fan provides cool air over a wide coverage area. The integrated carry handle makes it easy to carry.
3 SPEED SETTING, 3 WIND MODE SETTING: The tower fan features 3 speed setting- Low, Medium and High whilst also featuring 3 wind mode setting- Normal, Nature and Taper mode for your comfort and preference.
TIMER FUNCTION FEATURE: The timer function helps you to set up a time after which the fan will turn off automatically. This durable tower fan's timer operation allows control up to 7.5 hrs of continuous cooling time which can be adjusted in increments of 0.5 hrs.
SAFE AND EASY TO USE: The tower fan has easy- to- see digital display. The top mounted control panel of the tower fan can either be operated manually or with the remote control that is provided (Batteries not included) The generous 1.75 m power cable allows convenient location of the fan. The fan boasts of a premium 45W motor and is RoHS, REACH and CE certified.
Contact us in case of queries. Our customer service team will be happy to help you.