Schallen High Velocity 14″ Fan Review – Perfect for Smaller Spaces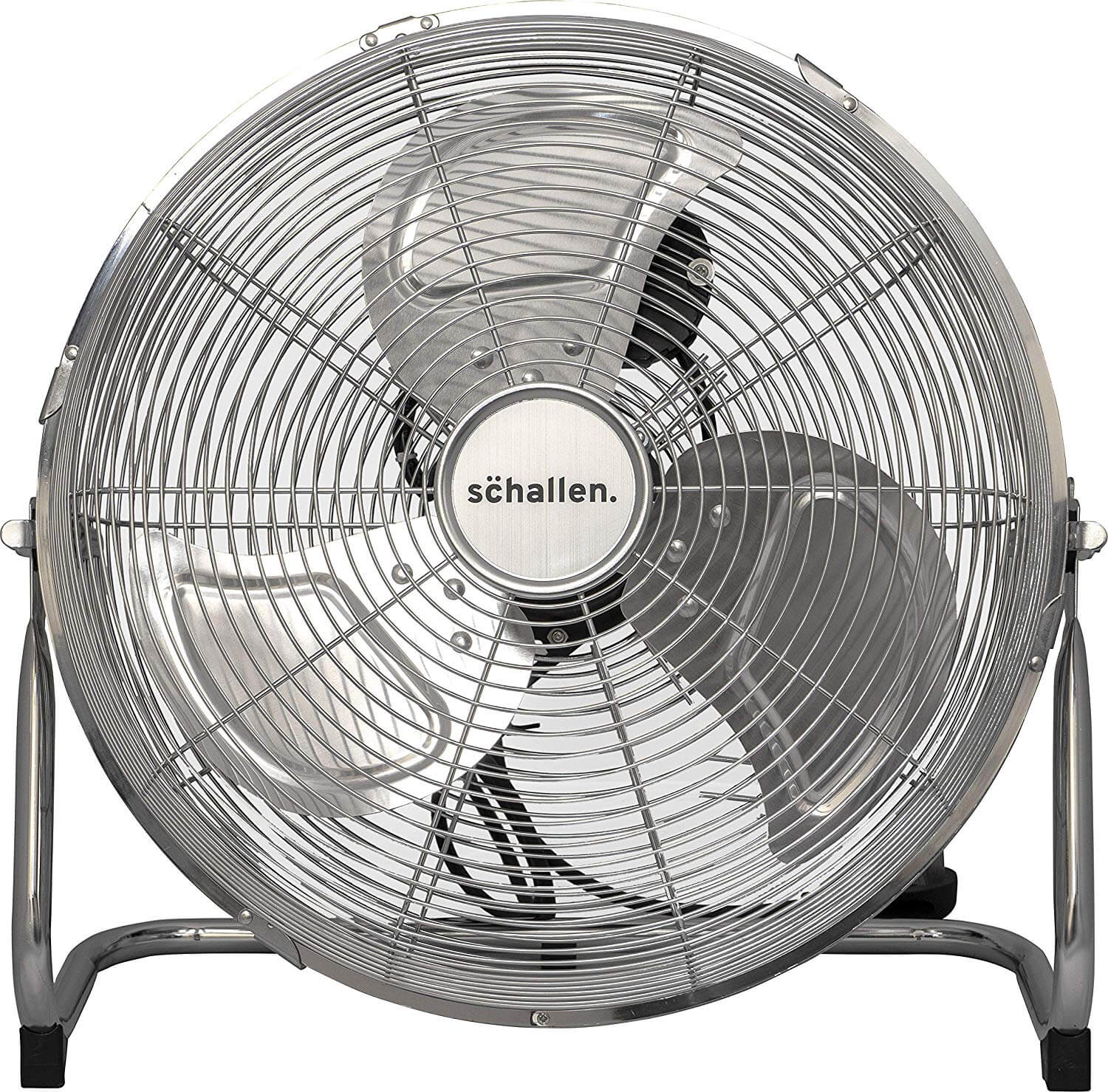 One of the worst things about small rooms is that they can get very hot, very quickly; especially during the summer season. Cooling things down quickly is quite difficult without the right equipment. One of the best things that you can do is to purchase a small to medium high velocity floor fan.
Of course, we understand that choosing the right floor fan can be a really difficult task because there are so many different fans on the market right now. This is why we are aiming to help. We aim to do this by testing and reviewing as many different fans as we can so that we can give you honest reviews.
The high velocity floor fan that we are going to be reviewing for you today is the Schallen High Velocity 14″ Fan Review. If you are interested in this fan and you would like to find out more information then please carry on reading below.
Features: Features: 70w Motor – 14" – 3 Fan Speeds – Adjustable Fan Head – Chrome - 45 x 44 x 18.3 cm – 3.72kg
Pros:
This high velocity floor fan comes ready assembled and ready to use.
It has been really well made from high quality materials.
It is quite compact so it is perfect for cooling smaller spaces.
The 70w motor is a lot more powerful than we had anticipated.
Even the lowest speed setting offers enough of a breeze to cool a small room fairly quickly.
Cons:
The 70w motor can be quite noisy, especially when you use the highest speed setting.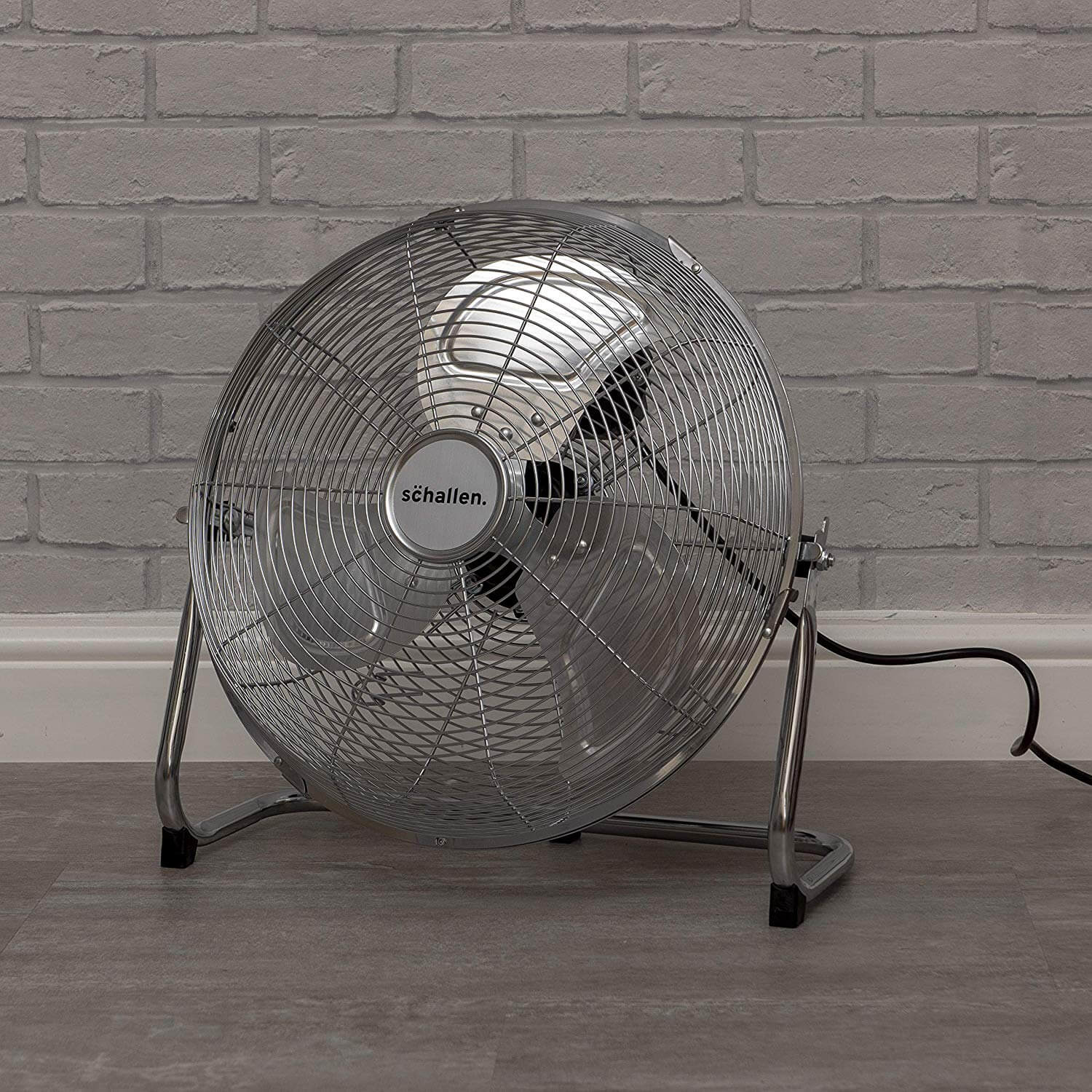 The Schallen High Velocity 14″ Fan Review
We hadn't actually heard of Schallen before we decided to test out this high velocity fan, so we weren't sure what to expect in terms of quality and performance, however, we were incredibly impressed with this model. First of all, we really liked the fact that this fan comes ready assembled, so it is ready to use straight out of the box.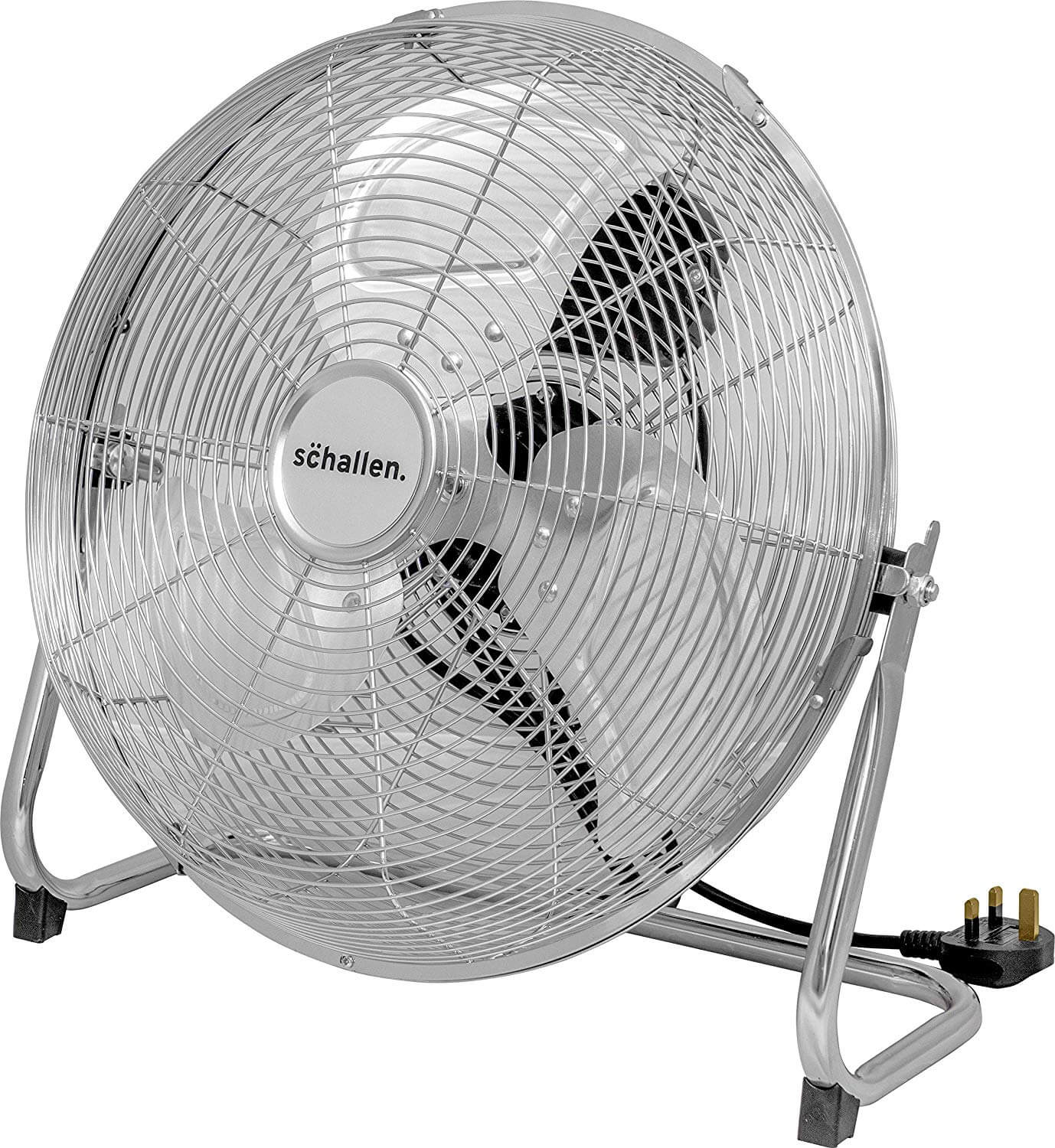 Before we plugged it in and began our tests, we took a good look around the housing of the fan to see what sort of quality it was and we have to say that high quality materials have definitely been used and this floor fan has been designed to be very robust. One of the things that we liked about this fan is that it is quite compact, making it perfect for cooling smaller spaces.
Once we had plugged it in we were ready to test the different speeds. The first thing that we will definitely say is that we were really surprised by the amount of power that the 70w motor produces. Even on the lowest speed setting you get a lot of cool air circulating.
We were able to cool a small room fairly quickly on the lowest setting, so the highest setting would still cool a larger room effectively. The only thing that we noticed in terms of negative aspects is that the motor is very noisy at the highest level and we can't exactly describe the lowest speed setting as quiet either.
However, if you are looking for something that is powerful, effective and doesn't take up too much space then the Schallen High Velocity 14″ Fan might be the high velocity fan for you.
HIGH SPEED MOTOR - This Schallen branded high velocity floor fan has a powerful motor and a 14-inch fan head creating a strong cooling wind with rubber feet ensures a stable base.
3 SPEED SETTINGS - Our Schallen floor fan features 3 Speed settings - High, medium and low speed settings so you can generate the perfect wind speed for your needs
ADJUSTABLE TILT HEAD - Features 120 degrees manually adjustable vertical tilt for your comfort and preference. The adjustable floor fan can be tilted from floor to ceiling providing you with a strong stream of cooling air exactly where you want it.
FULLY ASSEMBLED - This item comes fully assembled and ready to use. Ideal to for for gyms, homes, offices, or warehouses and industrial use.
CHROME FINISH - This floor fan has a stylish chrome/silver finish. Comes with a integrated carry handle enables easy portability and has all the up to date safety certs - RoHS, REACH and CE certified.