Oypla Electrical 18″ High Velocity Floor Fan – More Power Than Expected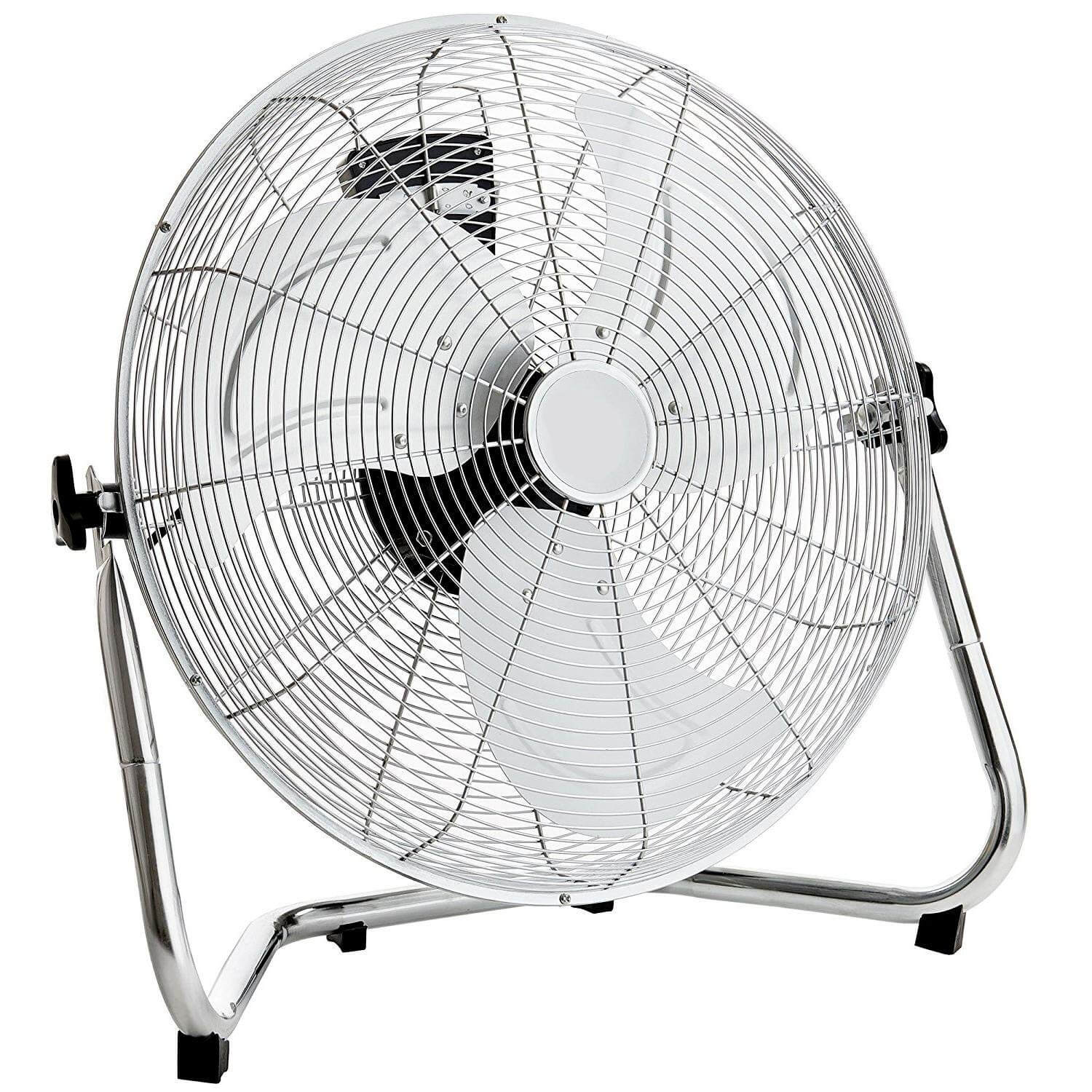 With the hotter weather fast approaching, there is no better time than right now to invest in a high velocity floor fan before they become out of stock everywhere. The good thing about these floor fans is that they come in a range of different sizes, but in order for the fan to be effective in your home or office, you need to make sure that you choose the right size.
Of course, not all of the fans that are on the market right now are going to be high quality, so choosing the right one for your home or office might be a bit of a challenge. This is why we have tested and reviewed as many floor fans as we can so that we can give you a better idea of what your options are.
The model that we are reviewing today is the Oypla Electrical 18″ High Velocity Floor Fan. If you would like to find out more information about this fan, then please carry on reading.
Features: 100w Motor – 18" – 3 Fan Speeds – Adjustable Fan Head – Chrome - 36.8 x 25.1 x 6.9 cm – 5.75kg
Pros:
Easy to put together out of the box.
Surprisingly powerful 100w motor.
Larger than we had expected.
All three fan speeds are very effective.
Cons:
The fan itself is very loud.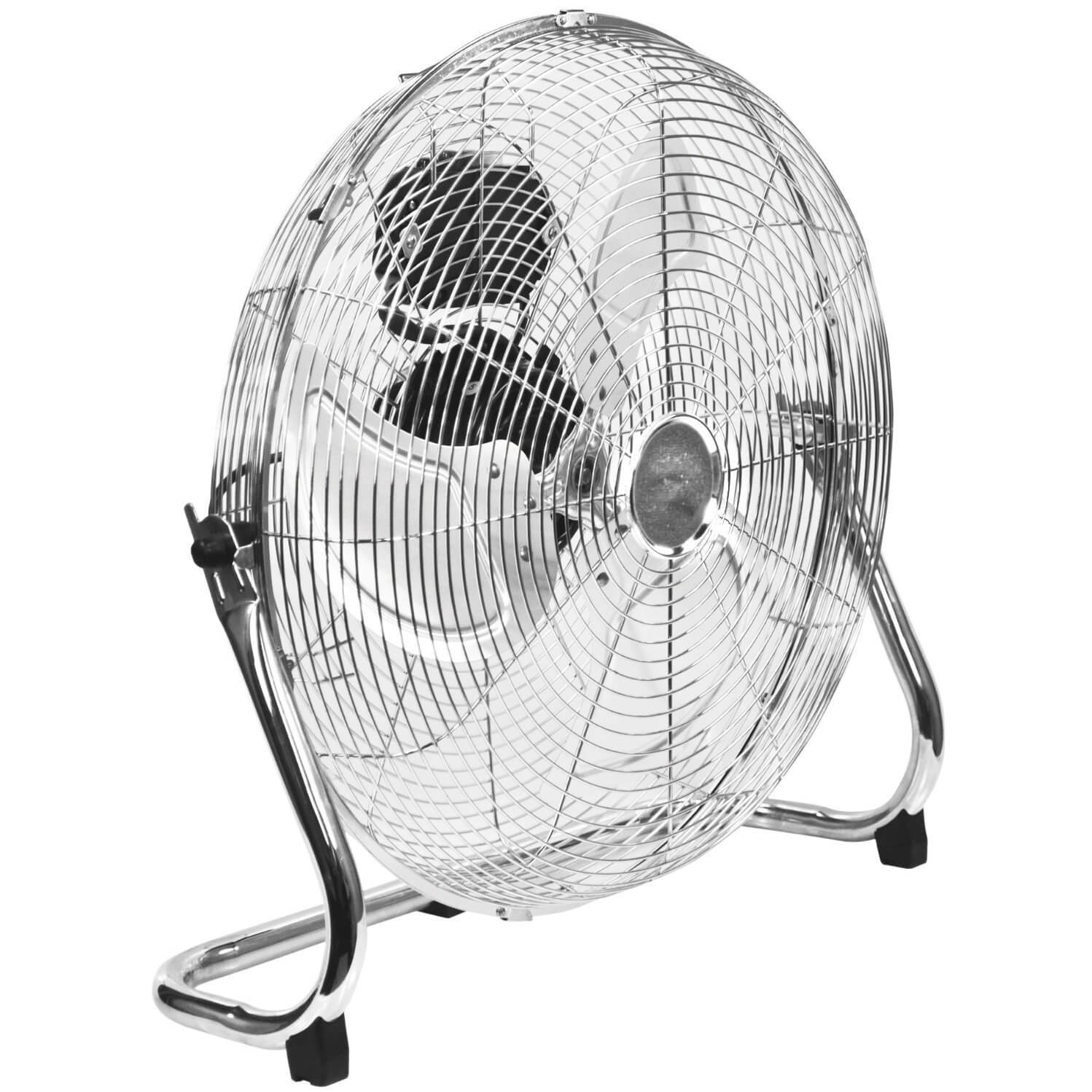 Oypla Electrical 18″ High Velocity Floor Fan
We have tested out a number of larger floor fans, so we wanted to find a fan that would be suitable for smaller rooms. The one that we decided to test out was the Oypla Electrical 18″ High Velocity Floor Fan. To start off with, we took a closer look at all of the parts in the box.
It was very clear to see that all of the parts were made out of really high quality materials and nothing about them feels cheap or flimsy. Putting together the fan was no trouble at all, we had it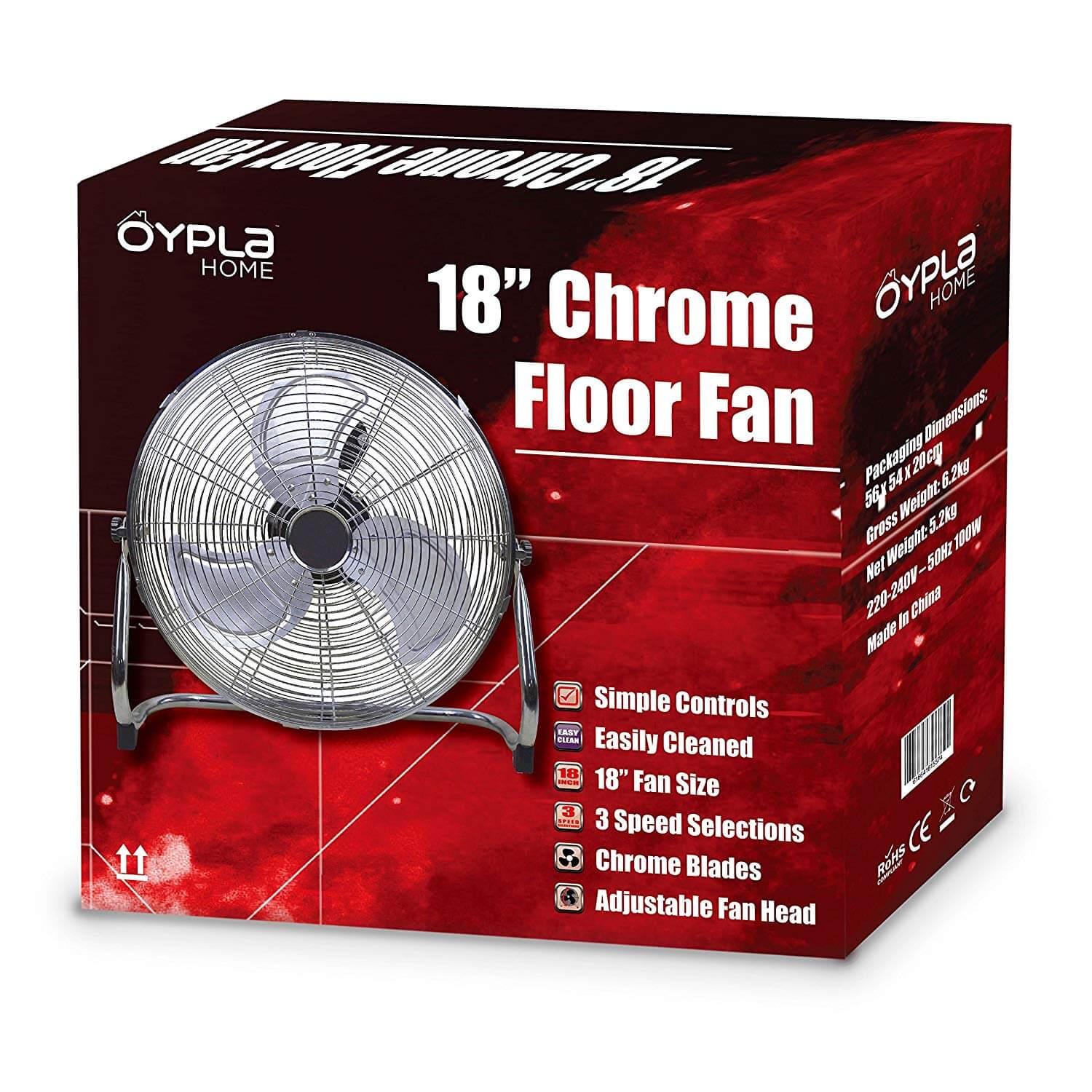 all assembled within around ten minutes. The first thing that we really noticed with this fan is that it is a lot larger than we had expected, so do keep this in mind when thinking about the space that you have available.
Once everything was assembled we were ready to test out the speeds and see how effective the fan is. One of the things that we immediately noticed was how powerful the fan is. We were actually surprised by the amount of power because the motor is only 100w. All three fan speeds are very powerful and effective and we were able to cool the room very quickly.
The only downside that is worth noting is that the fan is very loud. We found that even at lower speeds the motor was still very loud, so you wouldn't be able to use this fan overnight when you are trying to sleep. However, we definitely feel that this is a high quality fan that would be very well suited to the home and office.
Official Oypla Branded Product - Brand New Free UK Delivery
3 Speed Push Button Speed Control
Fixed Position With Full Tilt Option
F56 Chrome safety blades and housing
Sleek modern design