Dyson AM06 Desk Fan Review - The Ultimate in Cooling Technology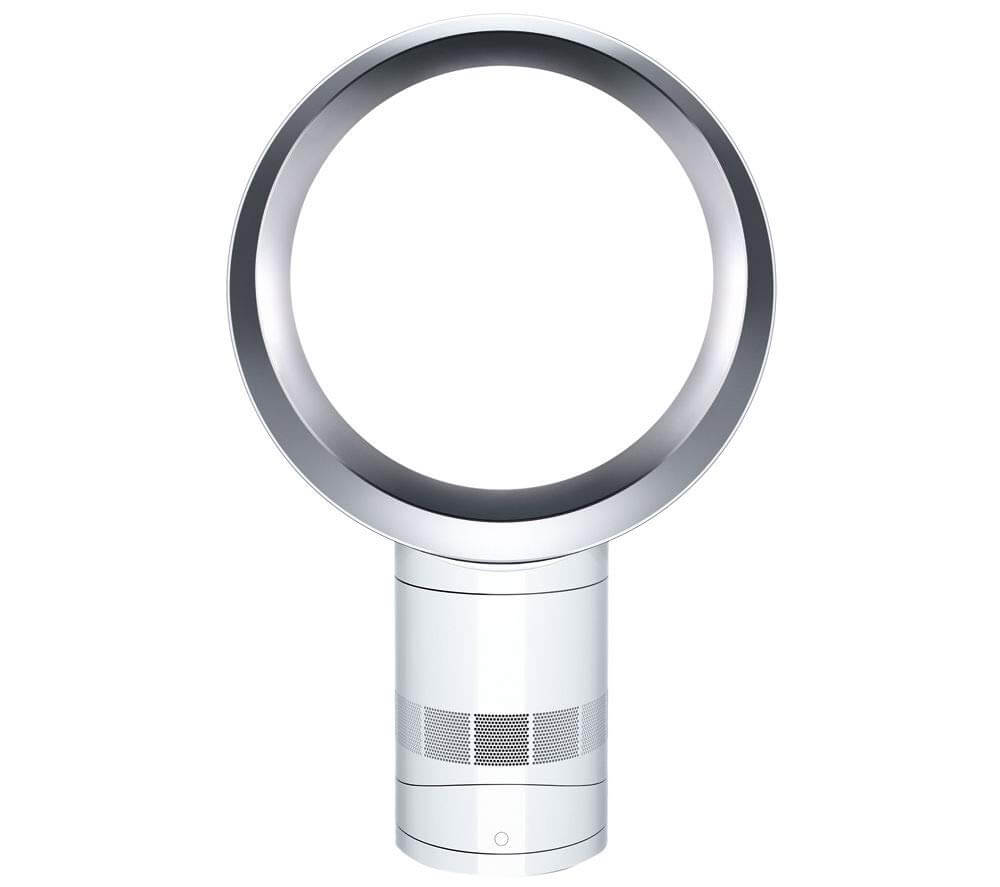 When it comes to home appliances, there are a few names that we all know and trust. One of those is Dyson. Usually known for their vacuums; Dyson also has a range of heating and cooling products too.
We wanted to see how their heating and cooling technology fared and have tested out some of their fans to see what they have to offer. The model that we are going to be testing and reviewing for you today is the Dyson AM06 Desk Fan.
Features: 26w - 12" - 67dB - 10 Airflow Settings - 9 Hour Timer - Remote Control - Bladeless - Air Multiplier Technology - 10 x 35.6 x 55.2 cm - 1.8kg
Pros:
Really stylish unique design.
The air multiplier technology is very powerful indeed.
There are 10 different airflow settings to choose from.
The Dyson AM06 Desk Fan is whisper quiet.
The 9 hour sleep timer is perfect for cooling overnight.
It is much safer and easier to clean because it is bladeless.
Cons:
This is a very expensive desk fan.
The Dyson AM06 Desk Fan Review
As we have already noted; Dyson has a solid reputation with all of their products so we definitely expected to be impressed with the Dyson AM06 Desk Fan and we were absolutely not disappointed; we were very pleased with it.
First of all, we absolutely loved the design. This desk fan is completely unique to any other fan that we have tried. It's unique design certainly makes it look very stylish indeed. Where we were really impressed, however, is the fans performance.
The first thing that we noticed was just how powerful the air multiplier technology actually is. There are 10 different airflow settings to choose from and each of them has a significant amount of power. What really surprised us is just how quiet each of the settings are.
The Dyson AM06 has a 9 hour sleep timer setting. We found this really useful on hot nights because we were able to create the ideal cooling schedule so that the room was filled with cool air by the morning.
What we really liked about this fan is that it is bladeless. Not only does this make it much safer for the family home, but it also makes maintaining the fan a lot easier because there are no blades to clean, we simply had to wipe around the inside of the fan which was much easier.
If you are in a larger room and the fan is positioned quite far away from you then you can use the handy remote control that comes with the fan. We were able to control all of the different settings with the remote and didn't encounter any problems at all.
The only downside with this desk fan is that it is expensive. However, we really feel that this model is worth the extra money because of the design and the performance and we highly recommend this model to anyone looking for a desk fan that has been built to last.
[amazon box="B00J22P1MY" /]