Pro Breeze Review – A Highly Impressive Cool Air Fan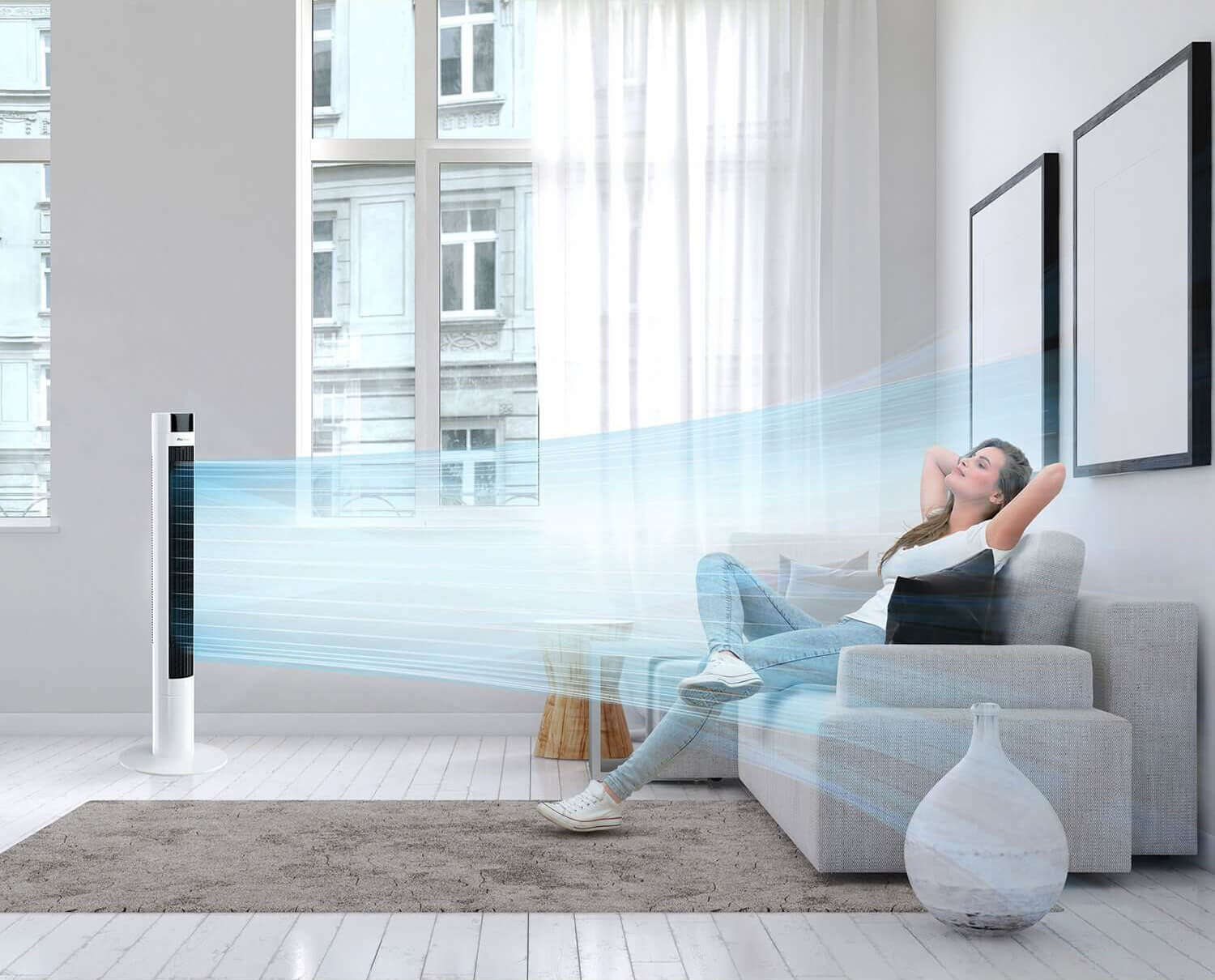 When looking for a new tower fan, there are plenty of options to choose from. There are a number of different features to take into consideration – the oscillating range, the number of speeds and also whether or not there is a remote control.
To help save you some time with your search, we have tried and tested a number of different tower fans so that we can give you a review of each one and allow you to make a clear decision on the best model for you.
The tower fan that we are going to be reviewing for you today is the Pro Breeze. To find out what we thought after testing it out thoroughly, please read on below.
Features: 45w Motor – 3 Speeds – 7 Hour Timer – 80 Degree Oscillation Coverage – Remote Control – 106.5 x 21.8 x 21.6 cm – 5.4kg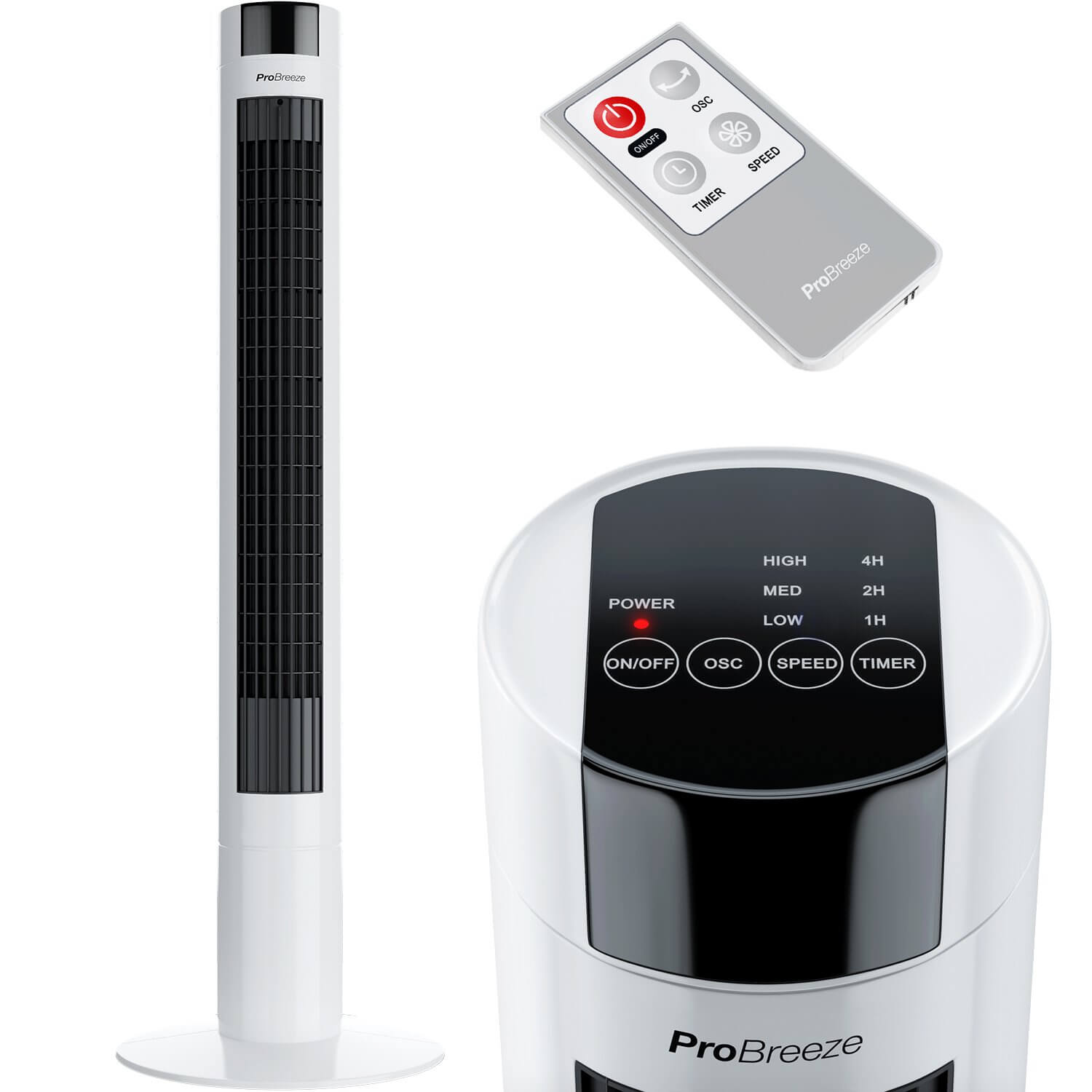 Pros:
This tower fan is designed to look highly elegant and it looks great.
It is designed to be slim lined so it is great for smaller rooms where space is an issue.
It has three different speeds so you can easily control the temperature in the room.
The 7 hour timer is great for cooling the room overnight.
It has a very large oscillation coverage of 80 degrees.
Cons:
The fan can be a little on the noisy side at the higher speed settings.
The Pro Breeze Review
The first thing that we are going to talk about is the design of the Pro Breeze. What immediately stood out for us was how elegant and modern it looks. It has a sleek slimline design which makes it perfect for rooms both large and small.
Setting up the fan was no problem at all, it was simply a matter of plugging it in and taking a quick look through the user guide which took us a matter of minutes. Once we had done that we were ready to take a proper look through the different settings.
Powerful Wind Modes
With the Pro Breeze you get three different wind modes. Each of these modes is designed to be a little more powerful than the previous. We found this especially useful on hotter days where we needed higher speeds to cool things down quickly.
We did notice that the highest speed setting can get a little noisy, but this is to be expected. One of the features that we really liked was the timer setting. With the 7 hour timer you can cool the room overnight without having to be there to operate the settings.
An Impressive Oscillation Range
We also really liked the large oscillation range which at 80 degrees was more than enough to cool an entire room quite quickly. As with most modern tower fans, you get a handy remote control which is especially useful if the room that you are using the fan in is larger.
Overall, we were really pleased with the Pro Breeze. We would certainly recommend it for it's range of wind modes, the range of oscillation and the fantastic modern design.
Pro Breeze Oscillating 40-inch Tower Fan, Powerful 45W Motor with Remote Control, 7 Hour Timer and 3 Cooling Fan Speeds for Home and Office
POWERFUL COOLING: This powerful 45W Pro Breeze tower fan boasts a huge 80-degree automatic oscillation coverage, perfect for circulating a cool high-powered breeze across large areas of your home, living room, bedroom or office
3 FAN SPEED: Equipped with 3 efficient fan speeds, low, medium and high-performance which deliver adaptable and effective cooling for all situations and temperatures
REMOTE CONTROL: Featuring an easy-to-use control panel and a convenient wireless remote which gives you the freedom to effortlessly adjust all features including the cool air speed, oscillation and timer from across the room
BUILT-IN TIMER: The 7 hour automatic on/off timer with handy flexible 1 hour increments is perfect for helping you to stay cool and save power overnight
ELEGANT MODERN DESIGN: Combining quality, safety and performance this enhanced 40" free standing fan features a strong space saving base and slim modern design. Lightweight, portable and in our signature ice white, it looks great in any home or office