Bionaire BT19-IUK Tower Fan Review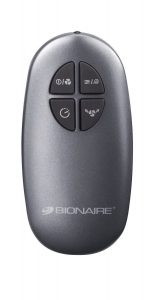 When it comes to temperature, human beings are never happy. You spend all of the winter hiding beneath your layers, blaring the heaters and praying for an early summer, but then when summer finally comes you find yourself overheating and you start missing winter again!
The upside to a stuffy and overheated home is that it will encourage you to get out there and explore the great outdoors, but you can't spend all your time outside and eventually, you will need to come back home and sleep. Luckily there are ways which you can make your home more bearable and even pleasant during the summer months, and one of the easiest, cheapest and most effective ways of cooling your home down is to buy an electric fan.
There are loads of different electric fans to choose from and it can be hard to tell the difference between them. Why would one fan cost £10 and another cost £80 if they both essentially do the same thing? You may be tempted to just buy the first fan you see, but you may not be aware that some fans come with a range of features and designs which you'll be missing out on if you don't know what to look for. We know that you probably don't want to spend the summer days googling the various different types of fans, so we've done the hard work for you and created this review of the Bionaire BT19-IUK (VIEW PRICE HERE!)!
Tower Fan

The Bionaire BT19-IUK is a tower fan which means it has a slim and narrow design and can easily fit in small corners. Tower fans are known for their slightly futuristic, metallic appearance and they can look really stylish in comparison to pedestal fans. Tower fans can easily compliment a range of different décors and they will definitely not look out of place in comparison to speakers or other electronics.
Remote Control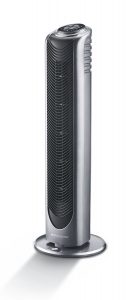 The Bionaire BT19-IUK comes with a remote control which you can use to adjust the temperature without having to get up! Tower fans are easily portable and you may well want to move the fan into your bedroom to cool you down through the night, but if you find yourself getting too cold and you want to adjust the speed or turn the fan on or off then the last thing you'll want to do is get out of bed and physically walk over to the fan. The Bionaire BT19-IUK's remote control will let you control your fan from your bed, chair or anywhere else in the room so you can be as lazy as you want!

Speed Settings
The Bionaire BT19 IUK has three-speed settings which you can choose from depending on your needs in that space and time. If you're feeling overheated then you can turn the fan up to full blast and cool off quickly and then if you feel yourself getting a little chilly you can turn the speed down and enjoy a nice gentle breeze.
Breeze & Sleep Mode
The Bionaire BT19 IUK fan has a 'breeze mode' and a 'sleep mode' which are perfect for night time use. If you're feeling a little hot but you don't want the fan to keep you up all night then these modes are the perfect solution. They are also a good choice if you don't want to make your room too cold and/or you don't want to be distracted by the fan as you sleep or work.

Timer
The Bionaire tower fan comes with an eight-hour timer which you can use to programme the fan in advance. This is great if you are ready to go to work and you don't want to come home to a stuffy house. All you need to do is programme the fan to turn on around the time that you are due home, go out and then return to a cool and airy house!
Panel
The Bionaire BT19-IUK features a soft touch panel which is both straight forward to use and kind to your skin.

Summary
Features: Tower Fan – Remote Control – Three Speed Settings – Breeze & Sleep Modes – Eight Hour Timer – Soft Touch Panel.
Pricing: Mid-Range/Affordable.
Attractive silver finish with black accents and a space-saving tower design help cool your room in style
3 speed settings plus breeze and sleep modes which cycle through speeds to simulate a natural breeze
Wide oscillation angle distributes air evenly throughout the room, Air flow: 5m3 per minute
White LED digital display with auto-off timer and handy remote control
LED display with integrated 8-hour timer; 3-year limited guarantee
Note : To rotate the fan the speed/oscillation button must be held for 2 seconds as per IB instruction. The light will then illuminate and rotation will begin. To change the fan speed press the Speed/Oscillation button repeatedly to find the desired fan speed.