The Top Clip-on Desk Fans For Summer
With the summer finally beginning to settle in, many of those who work at a desk will be feeling the overwhelming heat and the discomfort that comes with it. It may be hard to focus on your work and sometimes cracking open a window just isn't enough; it's even worse if you are not near any windows. Most places also do not have air conditioning and a regular fan is just too big to sit on your desk.
In an attempt to combat these practicality problems and beat the heat, the nifty desk fan was created. This gadget allows you to have your own personal fan, situated right on your desk, helping to circulate the air and keep you cool. They are compact and mean that you can achieve a wonderful airflow, without compromising on desk space.
You might be thinking, 'why not just buy a regular sized fan?' The difference is also shown in the price, personal desk fans are inexpensive. Also, this small, yet mighty, gadget is all for yourself. You don't have to worry about it bothering your coworkers and you can angle it so that it just hits your face, and absolutely no sharing of that refreshing, cool air is required!
What To Look For In A Desk Fan?
If you are looking to get a desk fan that is good quality for your money, then here are a few key features you should look out for.
USB function: The best desk fans operate via a USB cable, meaning they can be plugged into a charging port, your laptop, or a USB plug. You never have to worry about buying and replacing batteries again. In addition, you will not have the problem of your fan running out of charge.
Clip attachment: What makes these fans so much more convenient than a standard fan is that they can be clipped onto anything, the side of your laptop, or the table, basically anywhere you can think of. The clip attachment is an important feature as it means the fan is portable, practical, and saves you space.
Adjustable tilt: Most desk fans range from 180-360 degrees adjustable tilt. This means that you can adjust the direction of the air, or the angle at which it blows towards you. The adjustable tilt features allows you to have maximum comfort and enjoyment of the fan.
Noise level: The noise level of the fan is also important as you may deal with a lot of phone calls at work, having a quiet fan ensures that you are not disrupted or distracted at work. You can enjoy the absence of an irritating, whirring fan.
Speeds: The range of speeds of the fan should be considered when purchasing as most only have two speeds. You may want more choice than high and low, therefore it is important to choose a fan which allows you to adjust accordingly to the climate.
Eco friendly: It may be important to you to know that the product is made from sustainable materials, and is long-lasting, as to avoid replacement and resulting waste. The power that the fan consumes may also have an impact on your choice when considering the environment and energy saving.
Warranty: While this may not come with many products, it is always advantageous to purchase a product with a warranty. That way you know the manufacturer is confident in the quality of their product, and you can have peace of mind that if anything should go wrong, you are covered.
In conclusion, there are many variations of this product on the market, each with unique aspects; such as attachment clips, or bending heads. Although, not every product is as good quality as the last. Consumers rightly deserve top products for their hard earned money and to help you decide which fan you will be buying this summer, here are a few of our top picks.
Keynice USB Personal Desk Fan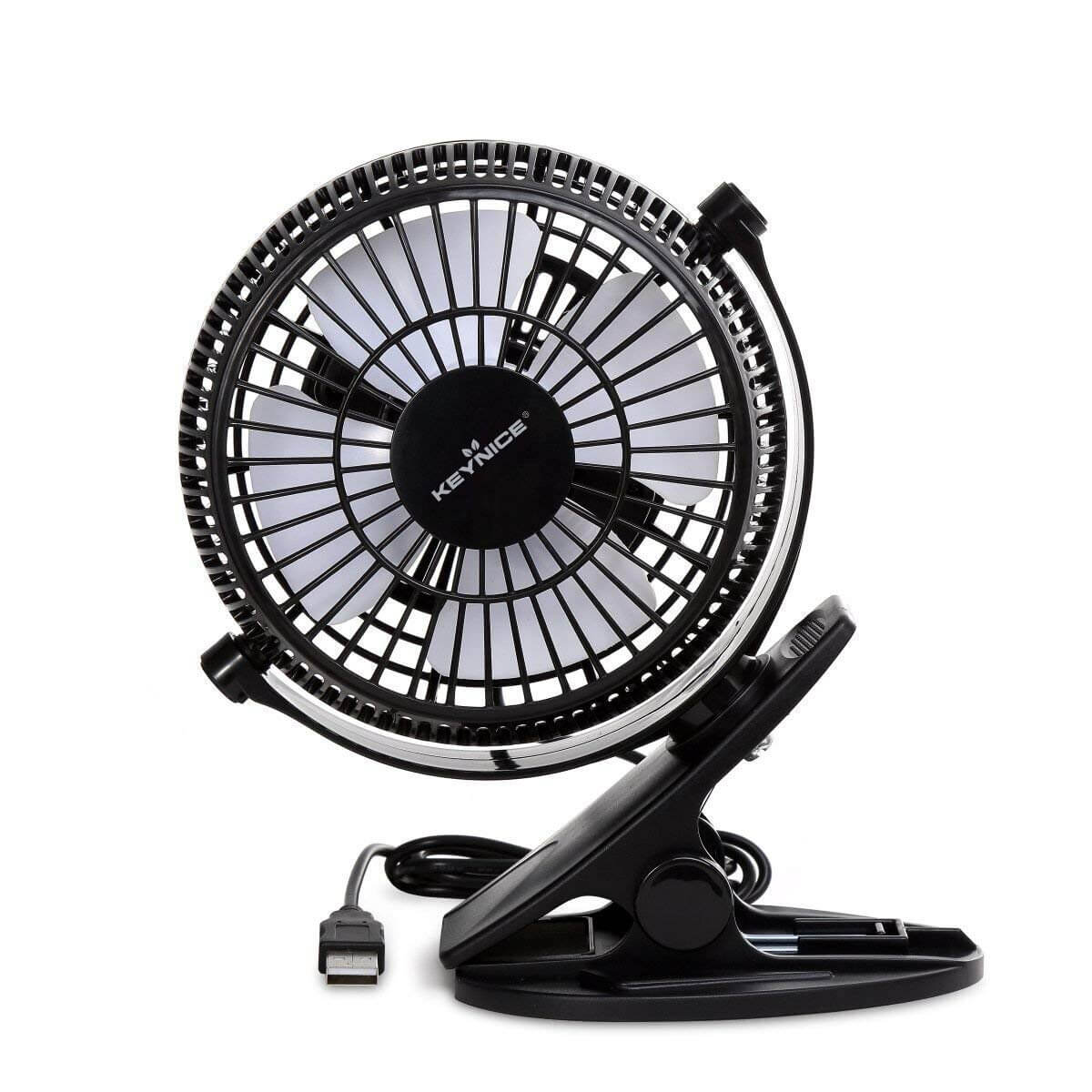 The keynice USB desk fan has some great features, it is one of the most popular style desk fans and is highly rated by customers. It has a basic shape and design, is simplistic, easy to use, and perfect for any workplace or home office.

Pros:
Has multiple speeds for different climates, which means you can adjust it to make yourself more comfortable.
It is lightweight and portable, you can take this fan anywhere to keep you cool all day, everyday.
It is USB powered so you will never have to worry about replacing the batteries which can cost quite a lot in the long run.
The fan has 360 degrees adjustment range, this allows you to change the direction of the wind, or the angle. Meaning the fan can fit literally anywhere and you can still get that cool air on your face.
The unique base design with a clip also means that you can put the fan wherever you like, on to your work tablet, your laptop, or even perhaps on the wall!
For those who are environmentally conscious, the keynice is made from eco friendly materials. It features ABS materials; and a brushless motor, body and chip, to ensure its durability and more powerful functioning.
The keynice is also great as it has a quiet operation, ensuring you won't be distracted or have trouble hearing over the noise of the fan.
Cons:
This fan is not as stylish as others on the market, it has a very basic design and may look cheap compared to other models.
Only has 2 speeds, this may be a problem if you are looking for something that is a little more varied in its functions and uses.
As it is a USB powered fan it cannot function without a wired power source.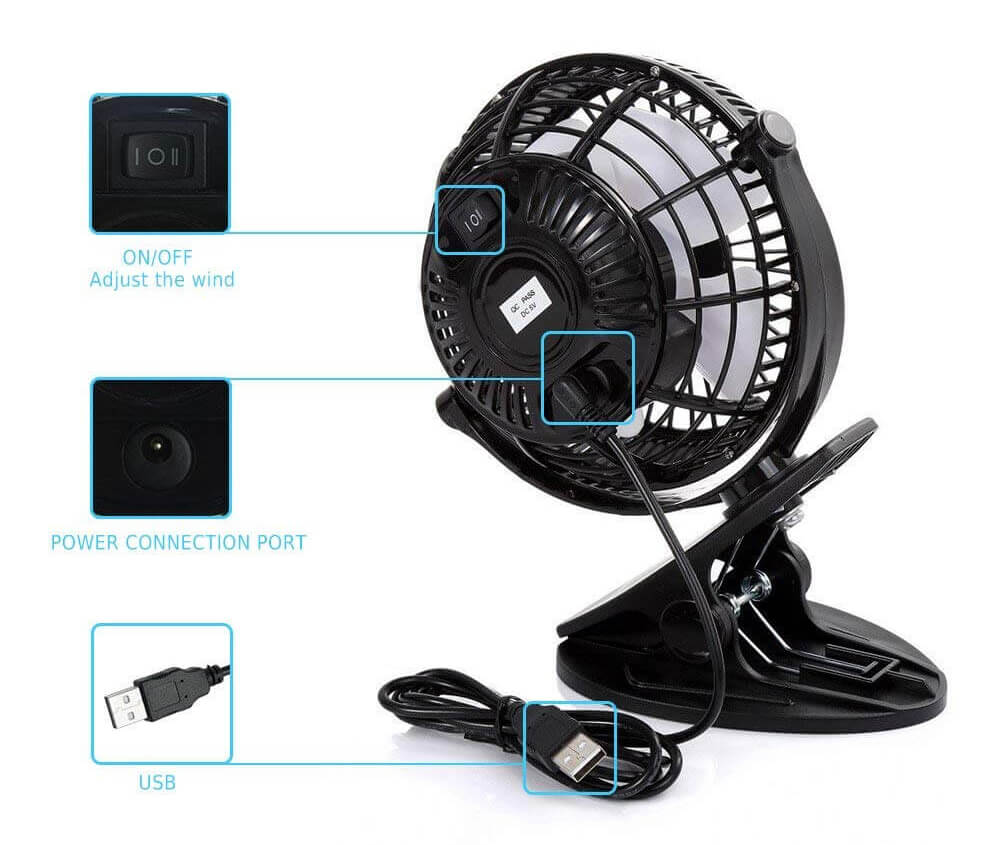 The keynice is a really great fan, and is clearly amazing quality for your money. While it is only 2 inches tall and extremely lightweight, it is compact, yet powerful in cooling you. For a basic, easy to use, and durable fan, this is the best option. You can view it online by clicking the link below:

Fancii personal USB fan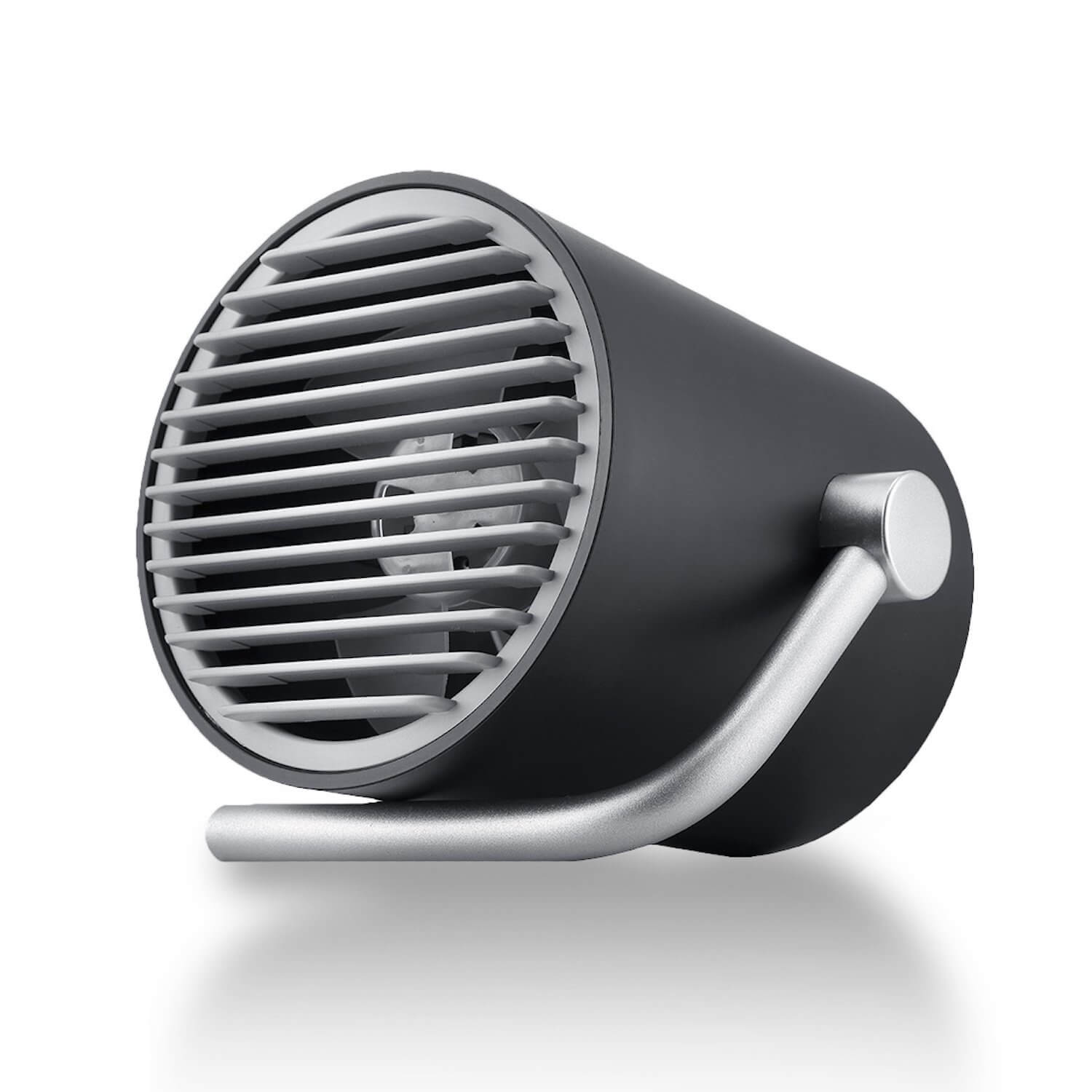 The fancii fan lives up to its name as it is a stylish, compact fan, great for any type of environment. It's twin turbo cyclone technology allows for max airflow, this is a hardworking little gadget. Unlike similar models, the fancii fan has some improved features, such as reduced noise and increased performance. It contains some powerful technology in such a small package.

Pros:
The fancii fan is up to 25% quieter, and 40% more powerful than similar models, this means that you can be free of any irritating whirring noises standard fans create. No more disruptions or having to turn the fan off due to the noise level.
It is small and lightweight, meaning you can take it anywhere while it is connected to a portable charger. Great for days out, especially when you just can't catch a breeze in the heat, the fancii fan will work hard to keep you cool as you hold it over your face.
The fan has a tilt of 180 degrees, therefore it can be adjusted to change the direction of the air. This is perfect for circulating the air and keeping the whole room cool.
It is USB powered, so no more batteries or running out of charge. This also makes the fan more eco friendly as there will be no more batteries to discard.
With a 2 speed function you can remain comfortable in the changing climate.
The fancii fan is also ultra low energy and uses only 5 volts, which is great for power saving and the environment.
It has a folding handle which means it can easily be carried or it can be handheld, the sleek handle also adds to the stylishness of the fancii fan.
The fancii fan uses twin turbo cyclone blade technology to maximise airflow, creating cooler air and a more powerful airflow than others of its kind.
Cons:
The fancii fan can only rotate 180 degrees which means it cannot be put just anywhere and used like other models.
There is no clip on the base of the fan so it cannot be attached to a screen at head height, only used from a flat surface like a table.
The fancii fan is not made from eco friendly, sustainable materials. Therefore it may not be a good option for those who are environmentally conscious.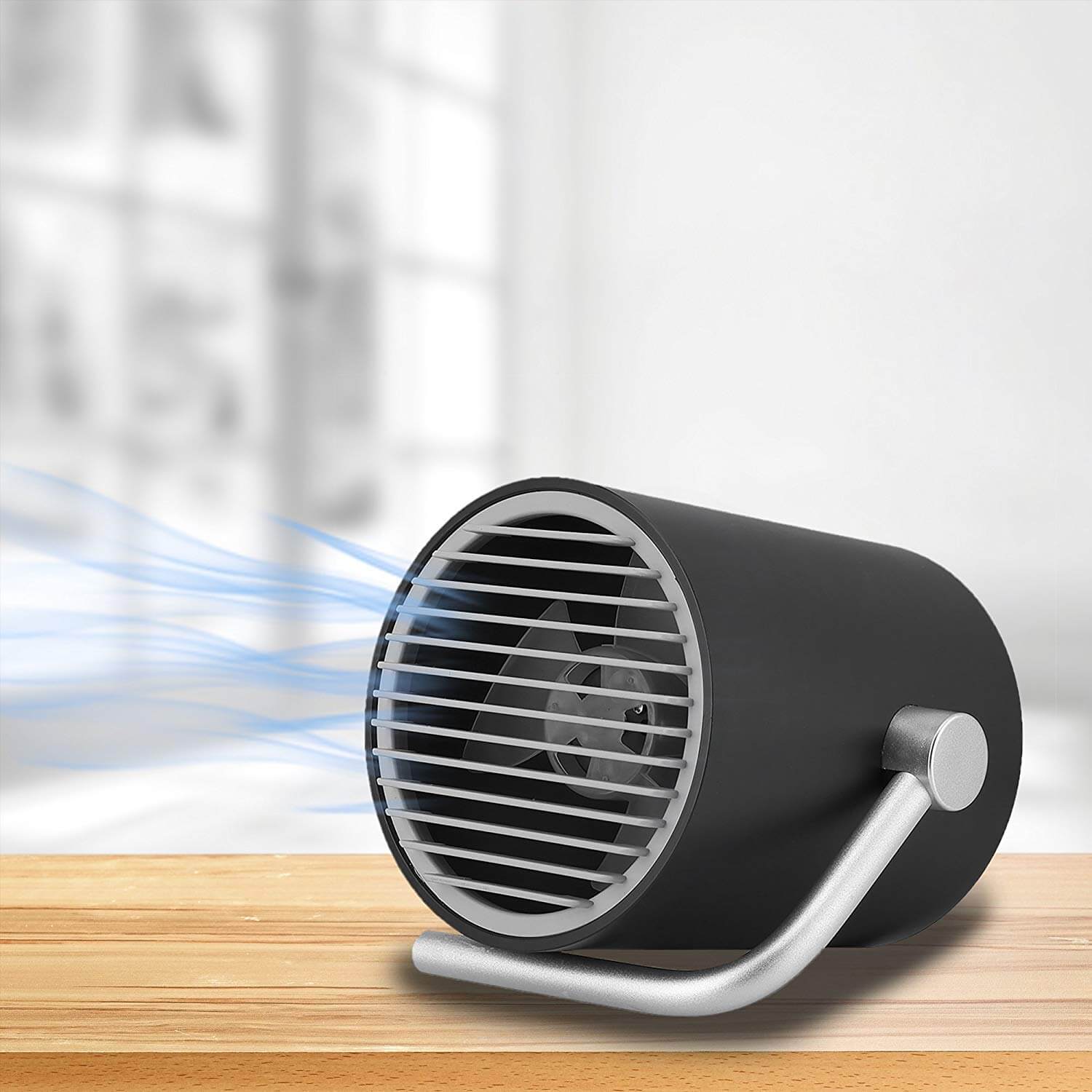 Overall, the fancii fan is one of the most stylish models out there, with a minimalist design it looks great in any room. It will keep you cool with its powerful blade technology, and is also great for when you are out on a hot day and want to use its handheld function. Below is a link to view the fancii fan:

SMARTDEVIL 3 speed desk fan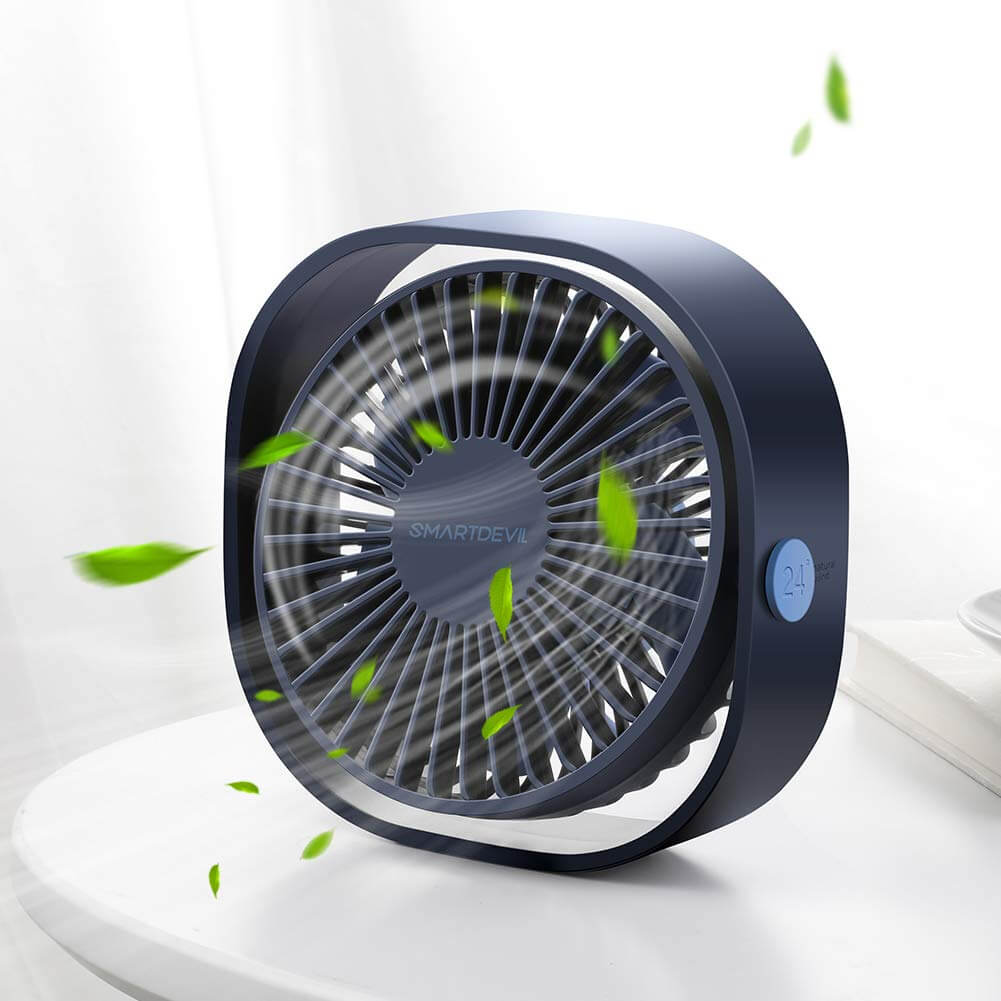 The SMARTDEVIL is unique in that it has 3 speeds for extra choice, maximum comfort, and easy adjustment to differing climates. It is a trendy, stylish design and looks very nice in any room. It is a great choice of fan, especially as it comes with a warranty.

Pros:
The SMARTDEVIL is compact and lightweight, allowing you to take it anywhere you want and keep cool wherever you are.
The SMARTDEVIL has a tilt adjustment range of 360 degrees, meaning it can be moved to cool you from any direction you want.
It has an ultra quiet feature for no disturbance and peaceful use of the fan.
The SMARTDEVIL has three speeds, unlike other models which means you can create the perfect work environment at the perfect temperature.
This fan is USB powered and is fully compatible with any device. It can be powered through your laptop, charging port, or USB plug for maximum convenience.
The SMARTDEVIL is a low energy consuming fan and is more environmentally and economically friendly than similar models on the market.
The SMARTDEVIL also comes with a one year warranty, therefore if anything goes wrong with the product you can get a replacement one. This ensures that the manufacturer has complete confidence in the functionality of their product and you can rest assured that your money is not being wasted on a subpar product.
A truly stylish and attractive device that will look great as part of the decor either in your home or at your workplace.
Cons:
The SMARTDEVIL is not made from sustainable materials, therefore it is a bad choice for any environmentally conscious consumers.
It is not as quiet as some other models, some reviewers say that while it is quieter than standard fans it is not the quietest model out there right now.
It must be plugged in at all times for use as there is no rechargeable battery operation. This goes for all the USB powered fans, although if they are being used for work this is not necessarily an issue.
There is no clip on the base of the fan for attachment to any surface or screen.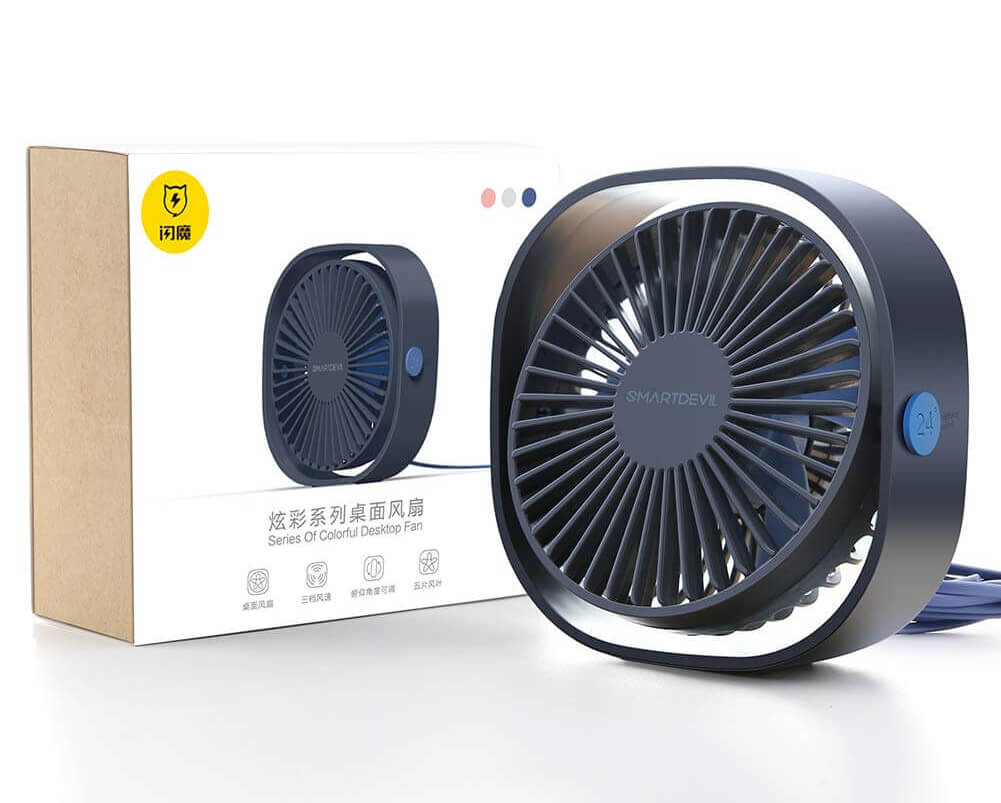 The SMARTDEVIL is a powerful, but compact, fan that looks good anywhere. With its one year warranty you can't really go wrong with this purchase as it almost ensures a great product. If great value for money and a highly versatile fan is what you're after then click the link below to take a closer look at the SMARTDEVIL: